TELEMEDICINE LISTENING SESSION
TELEMEDICINE LISTENING SESSION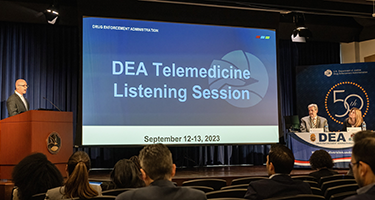 On September 12 and 13, 2023, DEA hosted public listening sessions and received comments from 58 healthcare practitioners, experts, advocates, patients, and other members of the public to inform DEA's regulations on prescribing controlled substances via telemedicine.
The listening sessions were livestreamed with virtual participation available. A transcript of the listening sessions is forthcoming. All comments and presentations will become part of the official record for the purposes of rulemaking.
DEA received more than 180 requests to present at the Telemedicine Listening Sessions scheduled for September 12 and 13, 2023. DEA thanks the applicants and members of the public for their interest in these rules and their willingness to provide comment. Because of time limitations, DEA selected a portion of the applicants to present during the listening sessions, consistent with the criteria set forth in the notice. DEA welcomes all feedback on its proposed rules and will have another comment period this fall for written comments before the telemedicine rules are finalized.
Previously sent out Notice of Proposed Rulemaking on telemedicine:
Notice: Practice of Telemedicine: Listening Sessions (PDF) (August 7, 2023)

Temporary Rule: Temporary Extension of COVID-19 Telemedicine Flexibilities for Prescription of Controlled Medications (PDF) (May 10, 2023)

Proposed Rule: Telemedicine Prescribing of Controlled Substances When the Practitioner and the Patient Have Not Had a Prior In-Person Medical Evaluation (PDF) (March 1, 2023)
---
View Telemedicine Listening Session DAY 1, September 12, 2023:
In Person Commenters:



| Commenter | Name | Organization |
| --- | --- | --- |
| 1 | Robert Krayn, Georgia Gaveras | Talkiatry |
| 2 | Shabana Khan | American Psychiatric Association |
| 3 | David Hoffman | Columbia University |
| 4 | Kyle Zebley | American Telemedicine Association/ata Action |
| 5 | Helen Hughes | Johns Hopkins Medicine |
| 6 | Brian Clear | Bicycle Health Medical Group, P.A. |
| 7 | Thomas Milam | Iris Telehealth, Inc |
| 8 | Melanie Melville, Lindsay Lanagan | Legacy Community Health Services |
| 9 | Daniel Reck | Matclinics |
| 10 | Dori Martini | Circle Medical |
| 11 | Lori Uscher-Pines | Rand |
| 12 | James Lewis | American Society of Consultant Pharmacists |
| 13 | Chris Adamec | Alliance for Connected Care |
| 14 | Edward Kaftarian, M.D. | Practitioner |
| 15 | Joseph Rotella, M.D. | American Academy of Hospice and Palliative Medicine |
Virtual Commenters:


Commenter
Name
Organization
1
Elizabeth Linderbaum
National Association of Community Health Centers
2
Michelle Cope
National Association of Chain Drug Stores
3
Sterling Ransone, M.D.
American Academy of Family Physicians
4
Anna Kesic
Empower
5
Robin Plumer, M.D.
Practitioner
6
Jodi Sullivan
Investigations Medicare Drug Integrity Contractor
7
Kevin Duane
PharmD
8
Kelly Clark, M.D.
American Society of Addiction Medicine
9
Teddy Weathersbee
Social Science and Public Health Researcher
10
Tichianna Armah, M.D.
Yale School of Medicine;
Community Health Center, Inc.;
American Psychiatric Association
11
John Lusins, M.D.
Psychiatrist
12
Jeffrey Chester, M.D.
Practitioner
13
Jerome Cohan
Catalyst Health Solutions
14
Tony Pratt
Piedmont Access to Health Services
---
View Telemedicine Listening Session DAY 2, September 13, 2023:
In Person Commenters:



| Commenter | Name | Organization |
| --- | --- | --- |
| 1 | Laura Jantos | Healthcare Technology and Digital Healthcare Management Consultant |
| 2 | Felicia Bailey | Family Nurse Practitioner, Avaesen Healthcare |
| 3 | Bruce Bassi, M.D. | Telepsych Health |
| 4 | Alex Armitage, M.D. | Baylor Scott & White Health |
| 5 | Roxanne Tyroch, M.D. | Intellimedicine PA |
| 6 | Connie Guille, M.D. | Medical University of South Carolina |
| 7 | Caitlin Gillooley | American Hospital Association |
| 8 | Marc Berger, M.D. | Practitioner |
| 9 | John Heaphy | New York State Department of Health, Office of Addiction Services, Department of Health Mental Health |
| 10 | Philip Moore, M.D. | Gaudenzia |
| 11 | Jesse Ehrenfeld, M.D. | American Medical Association |
| 12 | Delphine Huang, M.D. | California Mental Health Service Authority |
| 13 | Sarah Spencer, M.D. | Ninilchik Tribal Council, Alaska Tribal Health Consortium |
Virtual Commenters:



| Commenter | Name | Organization |
| --- | --- | --- |
| 1 | Danielle Vaeth | Qbtech |
| 2 | Stephen Martin, M.D. | Boulder Care |
| 3 | Ujjwal Ramtekkar, M.D. | Quartet Health |
| 4 | Christa Natoli, Yael Harris | CTEL, Laurel Health Advisors |
| 5 | John Wells | Louisiana State University Health Sciences Center |
| 6 | Juan Hincapie-Castillo, PharmD | National Pain Advocacy Center |
| 7 | James Ulager, M.D | Pursuecare |
| 8 | Halley Crissman, M.D. | Planned Parenthood Federation of America |
| 9 | Jessica Rigsby | Ophelia Health, Inc. |
| 10 | Marcelo Fernandez-Vina | The Pew Charitable Trusts |
| 11 | Dan Golden | East Coast Telepsychiatry |
| 12 | Kevin Simon, M.D. | Boston Children's Hospital Division Of Addiction Medicine |
| 13 | Shirley Reddoch, M.D. | Practitioner |